Stahlka Agency has been proudly serving the Western New York community with insurance services since being founded by Donald and Gertrude Stahlka in 1957. Although our firm started off small, through the years William, Mark, and Brad Stahlka have grown the company to over 45 employees and have established a strong reputation.
We are an independent insurance agency representing several insurance carriers to continuously provide our clients with the best value. We would like the opportunity to review your current insurance program and to offer recommendations to improve your coverage and reduce costs.
In 1995, Stahlka Agency joined other reputable insurance agencies to form the EMS Group, an independent, community-based group of insurance companies in Western New York. The EMS Group has distinguished itself as a youthful dynamic group, having established a strong reputation as a leader in the insurance business.
Our agency is pleased to operate out of both the Southtowns and Northtowns with one office at 6724 Main Street in Williamsville and our second location at 4250 Southwestern Blvd in Hamburg.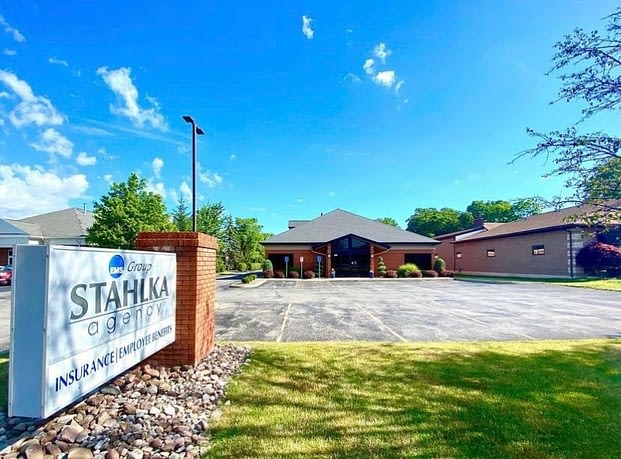 The Stahlka Way
"Do the right thing, ALWAYS."
DO WHAT'S BEST FOR THE CUSTOMER
In all situations, do what's best for the customer, even if it's to our own detriment. Show people you care about them as individuals, rather than transactions.
TREAT PEOPLE WITH DIGNITY
Interact with people in a way that honors their self-worth and respects their value as unique individuals. Demonstrate kindness and compassion. Listen with care. Be humble.
BE POSITIVE
You have the power to choose your attitude. Choose to be joyful, optimistic, and enthusiastic. Give people the benefit of the doubt. Your attitude is contagious. Spread optimism and positive energy. Be fully engaged.
FIND A WAY TO MAKE IT HAPPEN
Take personal responsibility when it comes to meeting the needs of our customers. Be resourceful, show initiative, and be relentless about finding solutions.
THINK TEAM
We win and lose as a team. Practice blameless problem solving. Be open to new ideas and different approaches. Be easy to work with, be a mentor.
LEAD BY EXAMPLE
The best way to influence others is through your own example. Don't wait for others to change. Be the change you want to see. Be willing to sweep the floors.
MAINTAIN A HEALTHY BALANCE
Keep perspective. Balance your time between work, family and the things that make you happy.
DELIVER RESULTS
Set high goals and hold yourself accountable for achieving results. Don't forget to celebrate success.
MAKE A DIFFERENCE
Be an active part of your community by getting involved and participating in community organizations and events. You can and do make a difference.
EMBRACE CHANGE
Nothing stays the same, especially in our industry. Be excited by change, and be energized by both the challenges and the possibilities it creates. Step out of your comfort zone, for growth never happens without risk.
ALWAYS REMEMBER THAT WE'RE A FAMILY
Our relationships go deeper than simply being teammates at work. While we may disagree, we genuinely care for and about each other. We believe in and trust each other. Whether it's a kind word during a tough stretch, a friendly smile each morning, or a helping hand in stressful times, show your compassion. Consider how your actions affect our collective reputation, and act in a way that brings honor to the Stahlka Agency.